NIDRI
(the jewel on the crown of Lefkada)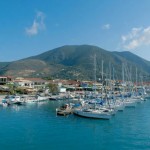 Set in a small bay on the east side of Lefkas Island, Nydri nestles at the foot of the pine clad mountains looking out over the 'princess islands' of the bay. This paradisiacal village of two-thousand inhabitants is the most developed of the island's resorts. Rows of boats of all shapes and sizes tied along the waterfront running parallel with the tavernas, restaurants and cafes that line the harbour all the way along.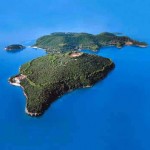 Whilst the village's main street is lined with gift shops selling everything from home crafts to souvenirs. 'THE PRINCESS ISLANDS' Nydri is the gateway to the wonderful unspoilt islands in the Ionian and these are the known as Princess Islands – Scorpios, Skorpidi, Sparti, Madouri, Thilia, Heloni, Kythros, Meganisi, Kalamos, Kastos, who each have their own magic with their stiff cliffs, their hidden shores, golden beaches and for which provide the most impressive views. With the mountain behind you, the islands of Skoprios, owned by the Onassis family, Skorpidi owned by Livanos family and Madouri owned by the famous poet Aristotelis Valaoristis and the green peninsula of Agia Kyriaki will take your breath away.
Access to Lefkada
INTERNATIONAL FLIGHTS TO LEFKADA
The closest International Airport is Aktio Preveza Airport (PVK) and is 16kms for Lefkada Town.Charter flights to Lefkada are available from many European countries including UK, Holland, Germany, France Austria, Switzerland and more. From Aktio airport you can either take a bus or taxi or rent a car to Lefkada.
ATHENS TO LEFKADA
CAR
The distance Athens to Lefkada is 385 kilometers. You can reach Lefkada by car, via the bridge that connects Lefkada with the mainland (Etelokarnania).
BUS
Lefakada can also be reached by KTEL buses, there are frequent bus routes to Lefkada from Athens, Thessalonica, Patras, and other major Greek cities. From Athens, bus service is daily and travel time is 5 hours. From Thessalonica, bus service is 2 times the week and travel time is 7 hours.
FLIGHT
There are daily flights from Athens International Airport Eleftherios Venizelos, to Aktio Preveza Airport and the trip lasts 45 minutes.
FERRY
Ferries are available from Italy to Igoumenitsa followed by a two hour drive to Lefkada by either car or bus.
SEAPLANE
You can find full schedule informations here. Directions on how to reach the villa from the airport will be emailed to you. We can also assist with car hire if required.
For Google Earth users
Latitude: 3842'57.47″N
Longitude: 2041'59.99″E
Click here to download the Kmz file.
Run it and it will lead you to the exact locations of Niriides Villa.
Find us also in Lefkada-Rentals.com